Corporate Identity
Life Value Creator
The LOTTE CHEMICAL TITAN CI values our environment and is committed to creating a healthy,
happy society.
Lotte Group CI
The LOTTE GROUP CI symbolically integrates the group's brand image and is the representative sign in all internal and external visual communication
Lotte Group CI Download

LOTTE CHEMICAL CI
The LOTTE CHEMICAL CI embodies values for men and environment.
LOTTE CHEMICAL CI Download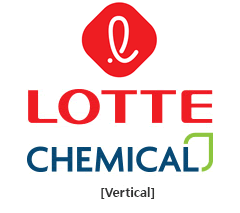 LOTTE CHEMICAL TITAN CI
LOTTE CHEMICAL TITAN CI Download

LOTTE

It shows the consistency of group identity by using Lotte's own exclusive fonts and colors.

CHEMICAL

Lotte Chemical Blue represents trust and transparency as the leading company in the domestic and foreign petrochemical fields, expressing our commitment to growth with greater vision.

LINE

The line motif in green color expresses Lotte Chemical's commitment to environmental stewardship. It contains our passion to strive to protect men and environment and reconcile a variety of values based on our leading petrochemical technologies.