LOTTE CHEMICAL TITAN will be a responsible partner to our customers by promptly issuing all product certificates needed for the business expansion.

We will simplify the issuance procedures and promptly respond to our customers' requests by issuing the certificates, which have hitherto been issued offline, through our website upon receipt of requests.
Customers can check and obtain the issued certificates through a simple query. Customers' convenience has been realized through the addition of an email transmission function. In case where a query about certificates cannot be made, simply apply together with the simple details of your request and our person in charge will promptly process the issuance and send it to you. We will do our best to be your sincere business partner.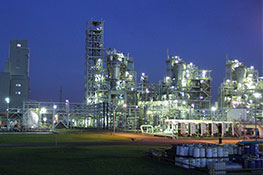 EU Food Contact Material Regulation

According to Table 1 of Annex I to Commission Regulation No 10/2011, no monomers and additives used for manufacturing of this grade are under restriction or specification.
Provided that appropriate manufacturing process is carried out, this product is suitable for use as food contact materials or articles according to articles 3 of Regulation (EC) 1935/2004. Compliance with the provision of regulation (EC) 1935/2004 specially the suitability of the articles for the given application, the smell and taste of the food, and observance of any given limitations must be ensured by the final articles fabricator.
US Food Contact (US FDA)

This product is in compliance with Food and Drug Administration – Code of Federal Regulation Title 21 Part 177 Subpart B – Substances for Use as basic Components of Single and Repeated Use Food Contact Surfaces – 177.1520 Olefin polymers (a) (2)(i), (c)2.1 and (c)2.2
RoHS, WEEE, Packaging Waste, CONEG

This product meets heavy metal requirements as described in following regulations:
CONEG (Coalition of Northeastern Governors) - US.
Directive 94/62/EC of the European Parliament and of the Council of 20 December 1994 on Packaging and Packaging Waste.
Directive 2000/53/EC of the European Parliament and of the Council on end-of-life vehicles
DIRECTIVE 2011/65/EU of the European Parliament and of the Council of 8 June 2011 on the Restriction of the Use of Certain Hazardous Substances in Electrical and Electronic Equipment (recasting of Directive 2002/95/EC) – RoHS Directives
Test Report on Heavy Metals

Substances and their compounds of Cadmium, Lead, Mercury and Hexavalent chromium, flame retardants PBB (Polybrominated biphenyls) and PBDE (Polybrominated diphenyl ether) are neither used nor intentionally involved during the whole process.
SVHC / REACH

None of raw materials utilized in manufacturing of this product are classified as Substances Very High Concern released by European Chemical Agency (last updated on Dec 17th, 2014) as stated in REACH (article 57, regulation (EC) no.1907/2006).
Indonesia Food Contact (BPOM)

This product is in compliance with Peraturan Kepala Badan Pengawas Obat dan Makanan (BPOM) Republik Indonesia Nomor HK.03.1.23.07.11.6664 Tanggal 12 Juli 2011 tentang Pengawasan Kemasan Pangan (Lampiran 1 dari Bab III Pasal 5: Bahan Kontak Pangan yang Dilarang Digunakan sebagai Kemasan Pangan dan Lampiran 2B dari Bab IV Pasal 6: Bahan Kontak Pangan yang Diizinkan sebagai Kemasan Pangan dengan Persyaratan Batas Migrasi)
Safety Data Sheet

The SDS originates with the establishment of standards for hazardous materials in 1983 by OSHA (Occupational Safety & Health Administration) under the US Labor Department, based on its judgment that about 600 chemical substances are harmful to workers in their workplaces.
These standards came into force in 1985 at which time the large chemical companies who agreed with federal laws concerning workers' right-to-know supported them and thus a draft proposal on MSDA was prepared. In 1992, the US Chemical Manufacturers' Association (CMA) enacted and promulgated a unified MSDS proposal by acquiring certification from the American National Standards Institute (ANSI). LOTTE CHEMICAL has been providing customers with the MSDS on our products.